29th ISDC Conference & Space Summit 8 to Address Space Exploration Options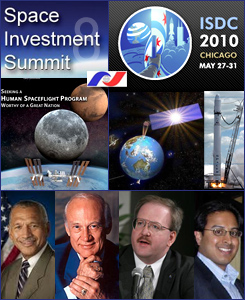 On May 27-31, space industry leaders and participants willing to advance the future of space exploration will converge at the 29th Annual International Space Development Conference (ISDC) in Chicago IL. Presented by the National Space Society, this year's event follows recent dramatic changes to the USA space policy by the Obama administration. Topics include NewSpace entrepreneurs, evaluating USA's space program post Augustine Report, building a Moonbase and space solar power to reduce dependence on fossil fuels. In attendance are NASA administrator Charles Bolden (BL), Deputy Administrator Lori Garver, Apollo 11 astronaut Buzz Aldrin (BCL), XCOR Aerospace President Jeff Greason (BCR) and Space Adventures CEO Eric Anderson. Other events coinciding with ISDC include Students for the Exploration and Development of Space meeting, the AIAA Space Colonization Technical Committee Symposium 'Living in Space,' and the 1st commencement ceremony of Kepler Space University. Space Investment Summit 8 (SIS) on May 26 features dialogue between prominent investment leaders and aspiring space entrepreneurs. 13 SIS panel speakers will present on commercial space markets and synergistic efforts with the Government to expand commercial space opportunities. Some of these speakers include Amaresh Kollipara (BR) of Earth2Orbit LLC and Max Grimard of EADS Astrium. (Credit: National Space Society, SpaceX, NASA, techwall.org, BuzzAldrin.com, Spacefrontier.org)
SpaceX Debut Launch of Falcon 9 May Herald New Era of USA Commercial Space Access
The long-awaited debut launch of the SpaceX Falcon 9 (TR) is now scheduled for May 28 from Cape Canaveral FL, USA.  Set to carry the qualification unit for its Dragon spacecraft, the launch is pending successful certification of its Flight Termination System.  If the launch is successful, the company will conduct 3 additional test launches this year, culminating in a berthing demonstration at the ISS. Falcon 9 could then begin delivering cargo to the station as early as next year to begin fulfillment of its US$1.6B contract for 12 ISS resupply missions. With access to a portion of the US$6B NASA will be providing to commercial launch providers, SpaceX projects it will begin launching astronauts in its reconfigured Dragon capsule (TL) in 3 years time. SpaceX founder Elon Musk's (BR) driving motivation is to bring about a dramatic reduction in the cost of going to space, thereby helping to advance humanity's expansion throughout the solar system. The list price for a Falcon 9 launch is around US$50M, compared with US$138M for an Atlas 5. (Credit: SpaceX, NASA)
---

= All times for terrestrial events in local time unless noted.


= All times for international terrestrial events in local time unless noted.


= All times for space events, and…


= All times for international space / astro events in Hawaii Standard Time unless noted. Add 10 hours to obtain UT ('Universal Time;' Greenwich, England).
---
Weekly Planet Watch – Morning Planets: Jupiter (ESE) / Evening Planets: Venus (WNW), Mars (W), Saturn (SW).
---
MONDAY

May 24 — International Space Station, LEO: E-23 crew members continue ongoing scientific experiments after departure of STS-132 crew who are set to arrive back to Earth on May 26.

May 24 — NASA Lunar Reconnaissance Orbiter (LRO), Lunar Orbit: NASA LRO operating nominally and continues to use Light Detection And Ranging (LiDAR) technology to map out images of the Moon in preparation for future manned missions.

May 24 — Mars, Red Planet: Mars Odyssey continues last attempts to send radio signals to a dormant Phoenix Mars Lander in the hopes the robotic Lander will pick them up and respond.

May 24 — Minority Innovation Challenges Institute (MICI), Online: New NASA MICI kick-off event now open for registration; All registrants to have free access to year-round virtual conference focused on getting students involved in NASA technical competitions.

May 24-28 — Northwest Research Associates, Colorado Research Associates, et al, Breckenridge CO: 'Meteoroids 2010: An International Conference on Minor Bodies in the Solar System.'

May 24-28 — National Science Foundation, NASA, South Padre Island TX: 'Gravitational Wave Astronomy Summer School.'

May 24 — Moon: 3.1° S of Spica; 11:00.

May 24 — Asteroid (Near-Earth Flyby): 2010 JN71 (0.021 AU); 2010 JV34 (0.042 AU).
---
Continued from . . .

Jan 30 — Museum of Science and Industry, Confucius Institute / University of Manchester, Manchester, United Kingdom: 'Exhibition: From Gunpowder to Space Rockets – The China Space Program,' includes models of ancient rockets, recent satellites, rockets, space ships and a lunar rover; through Aug 7.
---
TUESDAY

May 25 — 49th Observance of President John F. Kennedy Moon Speech: On May 25, 1961, President JFK announces ambitious goal of sending America to the Moon before end of decade. His vision was achieved on July 20, 1969 when Apollo 11 astronaut Neil Armstrong became the 1st person to set foot on the lunar surface.

May 25 — California Space Authority, Sacramento CA: 'California Space Day Sacramento 2010.'

May 25-26 — NASA, American Institute of Aeronautics and Astronautics, Galveston TX: 'NASA's Exploration Enterprise Workshop.'

May 25-26 — Brigham Young University Dept. of Geological Sciences, Provo UT: 'Io Workshop 2010.'

May 25-27 — Glenn Research Center, Cleveland OH: 'Balloonsat High Altitude Flight Competition,' put on by NASA Glenn Research Center.

May 25-27 — NASA Headquarters, Washington DC: 'Space Shuttle Discovery STS-131 Crew Interviews,' with astronauts Alan Poindexter, Dottie Metcalf-Lindenburger, Jim Dutton, Rick Mastracchio, Stephanie Wilson and Clay Anderson.

May 25-27 — The George Marshall Institute, Washington DC: 'Future of the Space Industrial Base.'

May 25-27 — The National Academies, Washington DC: 'Planetary Science Decadal Survey: 2013-2022.'

May 25-28 — Canadian Astronomical Society, Halifax, Nova Scotia, Canada: 'CASCA 2010.'

May 25-28 — NASA, Cape Canaveral FL: 'Lunabotics Mining Competition.'
---
WEDNESDAY

May 26 — The SETI Institute, Mountain View CA: Colloquium Series Lecture: 'The Maunder Minimum: Astrophysical Connection to Climate Change,' Dan Lubin.

May 26 — Space Investment Summit, Chicago IL: 'Space Investment Summit 8.'

May 26 — USA House of Representatives Committee on Science and Technology, Washington DC: 'Review of the Proposed NASA Human Spaceflight Plan.'

May 26 — Asteroid 2010 JO71: Near Earth Fly-by (0.046 AU).
---
THURSDAY

May 27-28 — University of Hawaii at Manoa, Honolulu HI: 'End-of-Term Hawaii Open Meeting on Exoplanets.'

May 27-31 — National Space Society, Chicago IL: '29th Annual International Space Development Conference.'

May 27 — Moon: Full Moon, 13:07; 2.0° NNW of Antares; 16:00.

May 27 — Asteroid 11055 Honduras: Closest Approach to Earth (0.985 AU).
---
FRIDAY

NET May 28 — SpaceX, Launch Falcon 9 / Dragon, Cape Canaveral FL: Falcon 9 rocket maiden launch demonstration mission to test future resupply flights to the ISS.

May 28 — Timeshare Relief Inc, Warner Grand Theater, San Pedro CA: Exclusive Los Angeles Premiere 'Orphans of Apollo,' with Keynote Speaker Astronaut Brian Binnie.

May 28-30 — Royal Astronomical Society of New Zealand (RASNZ), Dunedin, New Zealand: 'RASNZ Conference 2010.'

May 28 — Cassini OTM-249, Saturn Orbit: Spacecraft conducts Orbital Trim Maneuver #249 today.
---
SATURDAY

May 29 — Zero Gravity Corporation, Las Vegas NV: Commercial weightless flight onboard G Force One.

May 29 — Moon: 6.1° E. of Asteroid 1 Ceres; 13:00.

May 29 — Comet p / 2010 H3 (SOHO): Closest Approach To Earth; (0.316 AU).
---
SUNDAY

May 30-Jun 4 — Mees Solar Observatory, Haleakala Maui HI: '6th Solar Polarization Workshop.'

May 30 — Space Renaissance Education Chapter, Father Films, Online: Deadline for 'Naming X' contest, winners to be announced Jun 14.