Jupiter Central to 21st Century Solar System Exploration, Development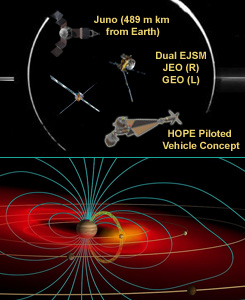 The planetary geostrategic center of our Solar System, Jupiter with 66 known moons, accounts for over 70% of planetary mass orbiting the Sun and has great potential to revolutionize the future of civilization and our understanding of life in the Universe. Currently en route to Jupiter, the NASA Juno mission is preparing for two deep space maneuvers: the main engine will fire on August 30 and September 4. The craft is scheduled to arrive at Jupiter in July 2016 and will be the 9th spacecraft to visit the gas giant, only the 2nd to enter orbit. The Europa Jupiter System Mission proposed for launch in 2020 would use dual orbiters to characterize icy moons Europa and Ganymede. Europa, about the size of our Moon, has an icy crust thought to cover a 100 km deep global ocean of liquid water containing 2-3 times the volume of that on Earth. Callisto is tidally locked, hence geologically stable, and with an orbital distance of 1,880,000 km is less effected by the intense radiation belt of the Jovian magnetosphere – two reasons the NASA-ESA Human Outer Planet Exploration mission (NET 2040) proposes landing a crew on Callisto. Abundant water in the Jupiter system could enhance and extend the reach of human and robotic Solar System exploration by providing constituents for life-support and fuel. (Image Credits: NASA, ESA)
Second Spacewalk Focuses on Further ISS Maintenance and Assembly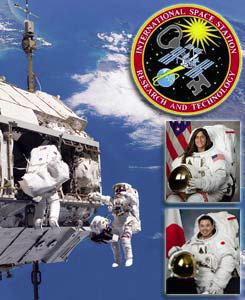 Expedition 32 flight engineers Sunita Williams (USA) and Akihiko Hoshide (Japan) are set to conduct the 164th extra-vehicular activity (EVA) at the International Space Station on August 30. The spacewalk, expected to last approximately 6.5 hours, will be the fifth for Williams and the first for Hoshide. This will also be the first EVA at the ISS by a U.S. astronaut since the final Space Shuttle mission in July 2011. The main goal will be to replace a faulty Main Bus Switching Unit (MBSU), one of four primary electrical power routing devices on the ISS. With the exception of a few critical maneuvers where two crew members are necessary, one astronaut will replace the MBSU. The other will lay cables to transfer power from the U.S. to the Russian segment for the Multipurpose Laboratory Module, set to arrive next year to replace the Pirs docking compartment. The astronauts also aim to replace a failing camera on the Canadarm2 robotic arm, which plays a key role in station assembly and maintenance. If time permits, the spacewalkers will install a debris and thermal cover on the Pressurized Mating Adapter 2 at the end of the Harmony module, the utility hub for power on the ISS. (Image Credits: NASA, JAXA)
---


= All times for terrestrial events in local time unless noted.

= All times for international terrestrial events in local time unless noted.

= All times for space events, and…

= All times for international space / astro events in Hawaii Standard Time unless noted. Add 10 hours to obtain UT ('Universal Time;' Greenwich, England).
---
Weekly Planet Watch – Evening Planets: Mars (WSW), Saturn (WSW). Morning Planets: Mercury (ENE), Venus (E), Jupiter (SE).

---
MONDAY

Aug 27 — ISS, LEO: Science continues to be main focus on ISS, with U.S. National Laboratory NanoRacks modules supporting plant / animal tissue investigations and onsite microbiological analysis.

Aug 27 — GRAIL Mission, Lunar Orbit: Mission extends this week as twin spacecraft Ebb And Flow take closer look at Moon gravity field from average orbit of just 23 km.

Aug 27 — Curiosity, Mars: Rover Environmental Monitoring Station (REMS), a suite of weather sensors on-board Curiosity, to begin delivering daily weather reports from Mars, available here.

Aug 27 — Planetary Resources Inc., Bellevue, WA: Company continuing to attract investors, may soon finalize partnership agreement with a "top 10" terrestrial mining company, says co-founder Eric Anderson.

Aug 27 — Oceaneering Space Systems, Houston, TX: Developing Membrane Enabled Reverse Lung technology aimed at reducing number of life support systems needed for astronauts, 1 of 5 companies funded by NASA Space Technology Program grants.

Aug 27 — SpaceX, Hawthorne CA: USAF considering SpaceX Falcon rocket for future GPS launches, according to Maj. Gen. Martin Whelan, director of requirements for Air Force Space Command.

Aug 27-29 — American Institute of Aeronautics and Astronautics, Cleveland OH: 'AIAA Short Course: Space Environment and its Effects on Space Systems,' Vincent Pisacane.

Aug 27-31 — International Astronomical Union, Beijing, China: 'IAU Symposium 293: Formation, Detection, and Characterization of Extrasolar Habitable Planets.'
---
Continued from…

Jul 1 – Dec 31 — American Institute of Aeronautics and Astronautics, Online: 'AIAA Short Course: Introduction to Space Flight,' Francis Hale.

Aug 20-31 — International Astronomical Union, Beijing, China: '28th IAU General Assembly.'

Aug 25-27 — The International Space Elevator Consortium, Redmond WA: '2012 Space Elevator Conference.'

Aug 26-28 — ESA, The European Space Research and Technology Centre, Noordwijk, The Netherlands: 'Fourth International Workshop on Analogue and Mixed Signal Integrated Circuits for Space Applications (AMICSA).'
---
TUESDAY

Aug 28 — Amateur Astronomers Association of New York, New York, NY: 'Observing on the High Line,' Night sky observation from the High Line, an elevated freight line built in the 1930's on west side of Manhattan.
WEDNESDAY

Aug 29 — SETI Institute, Mountain View CA: Colloquium: 'Rare Earth Twelve Years Later: What We Know Now,' presented by Peter Ward, Department of Biology, The University of Washington.
THURSDAY

Aug 30 — ISS, LEO: Flight Engineers Sunita Williams (NASA) and Akihiko Hoshide (JAXA) to conduct 164th spacewalk, broadcast live on NASA TV.

Aug 30- Dec 3 — GRAIL Mission, NASA JPL, Lunar Orbit: NASA's Gravity Recovery and Interior Laboratory (GRAIL) mission Extended Science Operations.


Aug 30 — Juno Mission, Jupiter Trajectory: 'NASA Juno Deep Space Maneuvers,' first of two scheduled deep space maneuvers.
FRIDAY

Aug 31 — Moon: Full Moon (Blue Moon), 03:57.

Aug 31 — Venus: 8.7° S of Pollux, 15:00; Mercury: 1.2° NNE of Regulus, 16:00.
SATURDAY

NET Sep — Orbital Sciences, Launch Antares / Demo, Wallops Island VA: 1st Orbital Sciences Demo rocket set to launch simulated Cygnus spacecraft on demonstration flight; formerly known as Taurus 2.

NET Sep — Launch Ares 1 / Orion Crew Exploration Vehicle, KSC FL: Test flight of Ares 1 CLV to take place, dubbed 'Ares 2;' suborbital flight to test Ares 1 prototype upper stage, Orion launch abort system; time TBD.

NET Sep — CNSA, Launch Long March 3B / Beidou, Xichang Satellite Launch Centre, Sichuan, China: Long March rocket set to launch two Beidou navigation satellites into medium Earth orbit for Chinese government.

NET Sep — Armadillo Aerospace, Launch STIG B-1, Spaceport America, NM: First Armadillo licensed launch from Spaceport America, carrying 2 revenue payloads for Vega Space and University of Purdue to +100 km altitude. If successful, the STIG-B will qualify for the NASA Flight Opportunities Program.
SUNDAY

Sep 2-8 — The International School of Space Science, L'Aquila, Italy: 'Astrophysical and Space Plasmas.'

Sep 2 — Cassini Titan Flyby, Saturn Orbit: Spacecraft conducts distant flyby of Titan today.