India Prepares for PSLV Launch, Eyes Ambitious Space Agenda for New Decade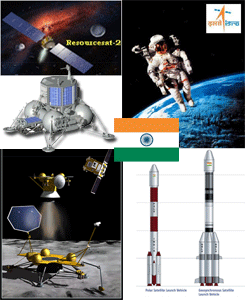 Seeking to reassert its position as a 21st Century space exploration leader, India will attempt to launch the Resourcesat-2 Earth-observation aboard a PSLV rocket this week from the Satish Dhawan Space Center in Sriharikota. The 295 metric ton, 44.9m tall rocket will also be carrying the Singapore Nanyang Technological University 100kg X-sat micro satellite and Youthsat, an Indo-Russian micro satellite designed by university students. With 16 consecutive successful flights, including the launching of India's 1st lunar mission Chandrayaan-1, the PSLV has gained a reputation as a reliable and versatile launch vehicle. India will require its GSLV rocket to attain its lofty space goals which include the 2013 Chandrayaan-2 lunar rover, a collaborative lunar orbiter-rover mission with NASA JPL (NET 2016) and eventual human space missions (NET 2016). After 2 unsuccessful attempts in 2010, ISRO plans an additional launch of the GSLV later this year. (Credit: ISRO, sac.gov.in, Anatoly Zak, brahmand.com)
STS-133 Voyage to International Space Station is Final Discovery Shuttle Mission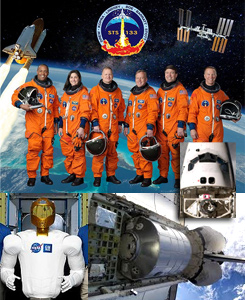 The 39th and final flight of Discovery STS-133 to the International Space Station (ISS) is set for NET February 24 from Cape Canaveral FL. The 6-member crew consisting of spaceflight veterans Cmdr Steven Lindsey, Pilot Eric Boe and Mission Specialists Alvin Drew, Stephen Bowen, Michael Barratt and Nicole Stott will launch on an 11-day mission to deliver supplies and perform 2 spacewalks for maintenance and component installation. Discovery's payloads include the Permanent Multipurpose Module 'Leonardo' (BR) which will add much needed storage space to the ISS as well as the 3743kg Express Logistics Carrier 4 that will support external payloads mounted to the space station. Other payloads include SpaceX's Developmental Test Objective payload (CR) which tests the DragonEye flash Light Intensification Detection and Ranging navigation sensor for future implementation on board the Dragon spacecraft, Robonaut 2 (R2) (BL), the 1st human-like robotic assistant developed by NASA and General Motors, as well as over 500,000 signatures from students who participated in the 2010 Student Signatures in Space program. Space Shuttle Endeavour, set to launch NET April 19 will be the last launch scheduled for the USA shuttle program. (Credit: NASA)
---

= All times for terrestrial events in local time unless noted.

= All times for international terrestrial events in local time unless noted.

= All times for space events, and…

= All times for international space / astro events in Hawaii Standard Time unless noted. Add 10 hours to obtain UT ('Universal Time;' Greenwich, England).
---
Weekly Planet Watch – Morning Planets: Venus (SE), Saturn (S) / Evening Planets: Jupiter (W).
---
MONDAY

Feb 21 — International Space Station, LEO: E-26 crew members prepare for arrival of STS-133 and monitor docking of the ATV-2 to the Zveda service module.

Feb 21 — NASA Lunar Reconnaissance Orbiter (LRO), Lunar Orbit: All systems nominal in scientific phase of mission as LRO continues to make digital elevation and terrain maps that will be a fundamental reference for future human exploration.

Feb 21 — Mars Rovers Spirit & Opportunity, Red Planet: Spirit remains silent nearly 11-months later at Troy while Opportunity continues trek to Endeavour Crater.

Feb 21 — The Royal Society of London, London, United Kingdom: 'The Chemical Origins of Life and Its Early Evolution.'

Feb 21-23 — University of Sao Paulo, Institute for Nuclear Physics, Sao Carlos, Brazil: 'Astroparticle Physics Workshop.'

Feb 21 — Cassini OTM-278, Saturn Orbit: Spacecraft conducts Orbital Trim Maneuver #278 today.

Feb 21 — Moon: 7.5° SSW of Saturn, 02:00; 2.6° SSW of Spica, 14:00.
---
Continued from . . .

Jan 29 — Casa Romantica Cultural Center and Gardens, NASA, San Clemente CA: 'They Came From Outer Space,' this fun and educational exhibition for the whole family is presented through NASA and explores how many of the everyday products we use were developed for the space program; through Mar 27.

Feb 17 — American Association for the Advancement of Science, Washington DC: 'AAAS 2011 Annual Meeting: Science Without Borders,' event to feature thousands of scientists, engineers, educators and policy-makers as well as hundreds of national and international science reporters and writers; through Feb 21.
---
TUESDAY

Feb 22 — George Washington University, Washington DC: 'Open Global Community NEO Workshop – Target NEO: Providing a Resilient NEO Accessibility Program For Human Exploration Beyond LEO.'

Feb 22 — NASA, Washington DC: NASA to hold media teleconference about nonprofit management of International Space Station at 11:00 EST.
---
WEDNESDAY

Feb 23 — Orbital Sciences Corporation, Launch Taurus / Glory, Vandenberg Air Force Base CA: The Orbital Sciences Taurus rocket set to launch NASA's Glory Earth observation satellite.

Feb 23 — The SETI Institute, Mountain View CA: Colloquium Series Lecture: 'The Evolution of Saturn's F Ring,' Rob French.

Feb 23-25 — Astronomical Society of India, Raipur, India: '29th Astronomical Society of India Meeting.'

Feb 23 — Asteroid 2011 BQ50: Near-Earth Flyby (0.031 AU).

Feb 23 — Asteroid 1981 Midas: Closest Approach to Earth (0.508 AU).
---
THURSDAY

NET Feb 24 — NASA, Launch Discovery STS-133 / ULF-5, Cape Canaveral FL: STS-133 to be 35th US mission to the ISS and carry the 4th ExPRESS Logistics Carrier and the Permanent Multi-purpose Module.

NET Feb 24 — ISRO, Launch PSLV / Resourcesat 2, Sriharikota, India: India's Polar Satellite Launch Vehicle will launch the Resourcesat 2 Earth observation satellite, the XSAT demonstration satellite for Singapore and the Youthsat payload for India and Russia.

NET Feb 24 — RSA, Launch Soyuz / Glonass, Plesetsk Cosmodrome, Russia: RSA Soyuz 2-1a Rocket & Fregat upper stage to launch 1st next-generation Glonass K Navigation satellite.

Feb 24 — SpaceLand, Torino, Italy: SpaceLand to present 2011 agenda on new opportunities open to the public which include a space training program and lunar-gravity research flight in Russia, NASA partnered weightless flights and underwater space training sessions.

Feb 24-25 — Technical University of Berlin, Institute for Planetary Research, Berlin, Germany: 'Planetary Transits and Oscillations of Stars (PLATO) Science Conference,' PLATO (PLAnetary Transits and Oscillations of stars) is one of the three medium class (M class) missions selected for definition study in the framework of the ESA Cosmic Vision 2015-2025 program.

Feb 24 — Moon: At Last Quarter, 13:27; 2.9° NNW of Antares, 19:00.
---
FRIDAY

Feb 25 — Arizona State University, Tempe AZ: 'ASU Astronomy Open House,' a public outreach service by graduate students from the School of Earth and Space Exploration.

Feb 25-27 — Texas Instruments, San Antonio TX: 'Texas Instruments T3 2011 International Conference,' participants to explore the latest innovations in mathematics, science education and technology used in teaching; Featuring keynote speaker Sally Ride.

Feb 25-27 — StratoStar Systems, Sacramento CA: '2011 High Altitude Balloon Workshop,' a 3-day hands-on workshop focused on training and equipping professors / instructors in the STEM disciplines on how to implement high-altitude balloon launches in their classrooms and curricula with minimum effort, utilizing StratoStar's turn-key high-altitude flight products.
---
SATURDAY

Feb 26— Zero Gravity Corporation, Cape Canaveral FL: Commercial weightless flight on board G Force One.

Feb 26 — Washington Science Teachers Association, Port Angeles; Yakima WA: 'Addressing Student Misconceptions of the Earth-Sun-Moon System,' a free workshop for teachers to deepen content knowledge and provide constructivist techniques to help students understand the Earth-Sun-Moon system.

Feb 26-27 — Sally Ride Science, Jet Propulsion Laboratory, et al, Pasadena CA: 'Connecting with Climate Change.'

Feb 26-27 — The Institute of Astronomy and Astrophysics at Academia Sinica, Taipei, Taiwan: 'ALMA Users Workshop,' workshop is designed to provide users with the update of ALMA project and the capabilities in the phase of ES, and to familiarize users with the (updated) tools for preparing and submitting their proposals, along with hands-on exercises, right before the call for proposals.

Feb 26 — Asteroid 2004 EK1: Near-Earth Flyby (0.056 AU).
---
SUNDAY

Feb 27 – Mar 1 — National Space Society, Space Exploration Alliance, Washington DC: '2011 Legislative Blitz,' participants and space advocates from around the country to show Congress that there is a strong constituent support for an ambitious space program.

Feb 27 — Moon: 0.88° SSE of Asteroid 4 Vesta; 14:00.

Feb 27 — Asteroid 2011 AG5: Near-Earth Flyby (0.097 AU).